And PEAK MONTH 2018 is a wrap. Here's a quick recap…
It began on Aug 1 in the wooded hills of New Jersey with the summit of 750 ft Campgaw Mountain by wacbravo.
1422 summits later, on Aug 31 Culater stood atop Mount Belcher in the islands of British Columbia, capping 4 weeks of mountain adventures by peakery members around the globe.
Some PEAK MONTH stats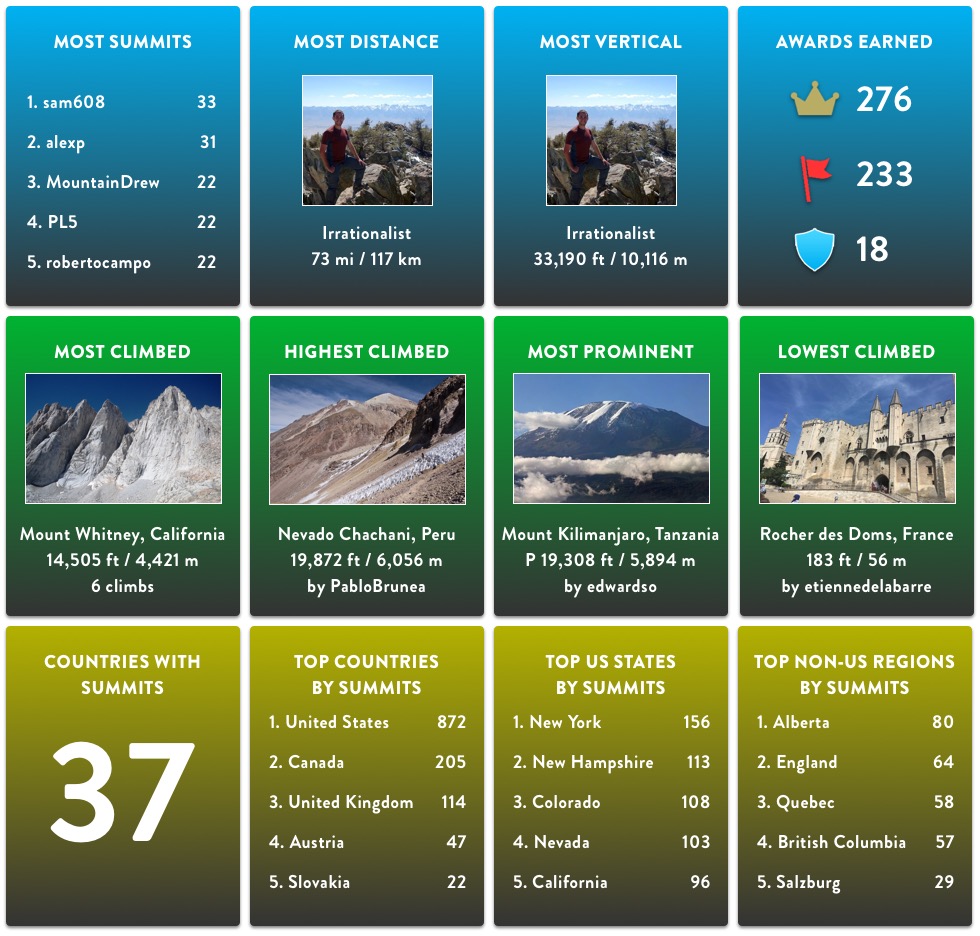 Along the way, peakery members overcame many obstacles, such as:
Impolite weather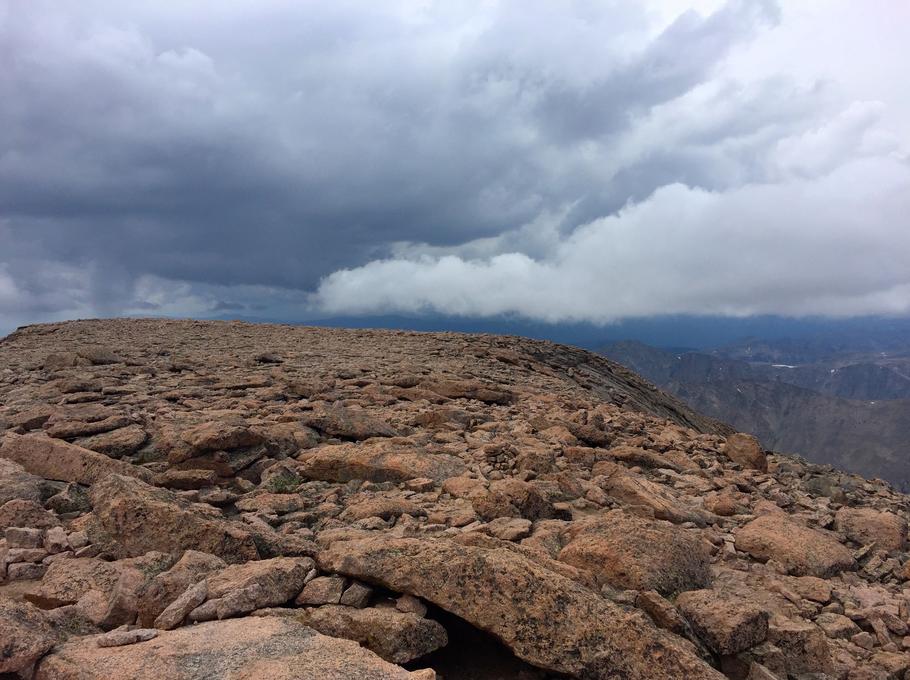 "In Canada, even the mountains are polite. I have never been kicked out from the mountains in such a way: two hail and thunderstorms within just 2 or 3 hours[…] the wind gusts were somewhat up to 80-100km/h. In some places had to really hold onto the rock in order not to be blown away[…] Had to hide in a hole between camp site's stonewall and a boulder for quite some time." — Longs Peak, Colorado by alexp
Crevasses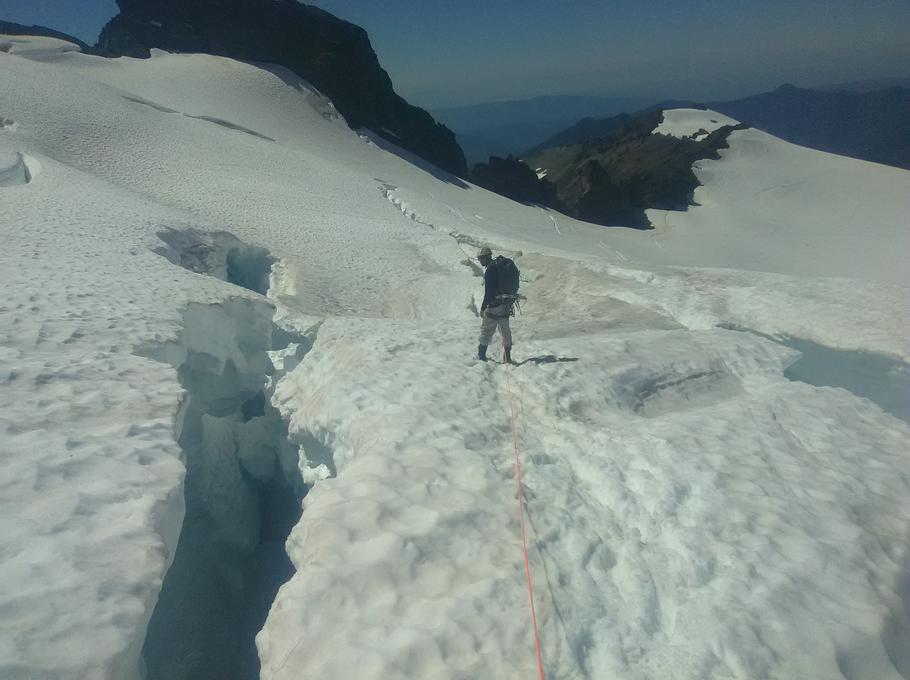 "We teamed up with another party of 2, using all 4 of the pickets and belayed each other up the steep snow. After passing the crux it was easy going and super gorgeous. We got to the summit around 10. I can't imagine having better views. Sean and I had the top to ourselves for 15 minutes then made pretty good time heading down." — Mount Baker, Washington by MatthewWinterberg
Emergency caving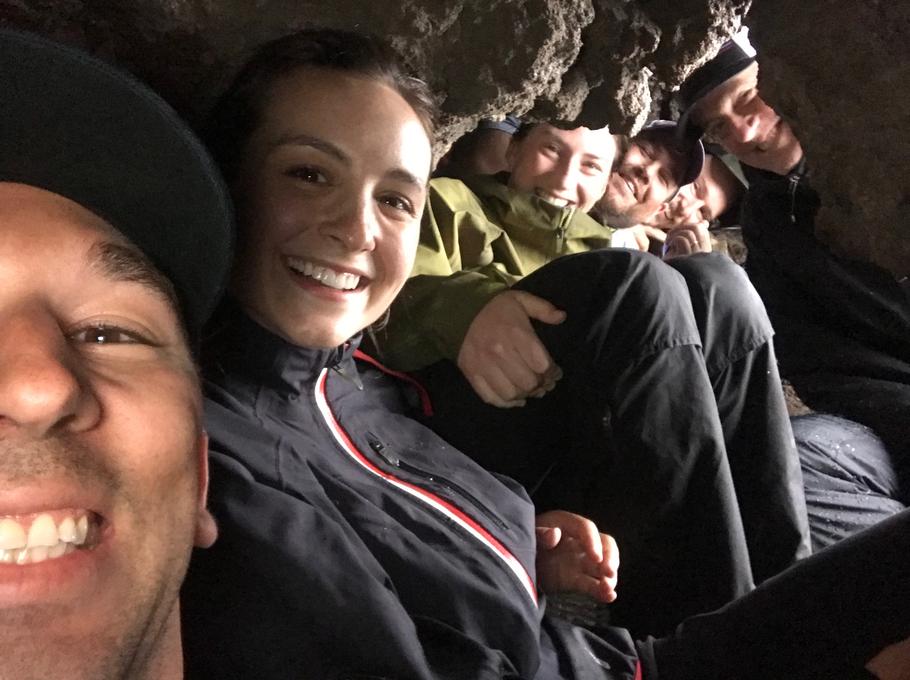 "Six of us were stuck in a cave for three hours on 8/4/18 about an hour below the Lunch Counter. Severe hail storm with lightning. No warning. We were instantly wet and cold." — Mount Adams, Washington by blindskov
Ornery wildlife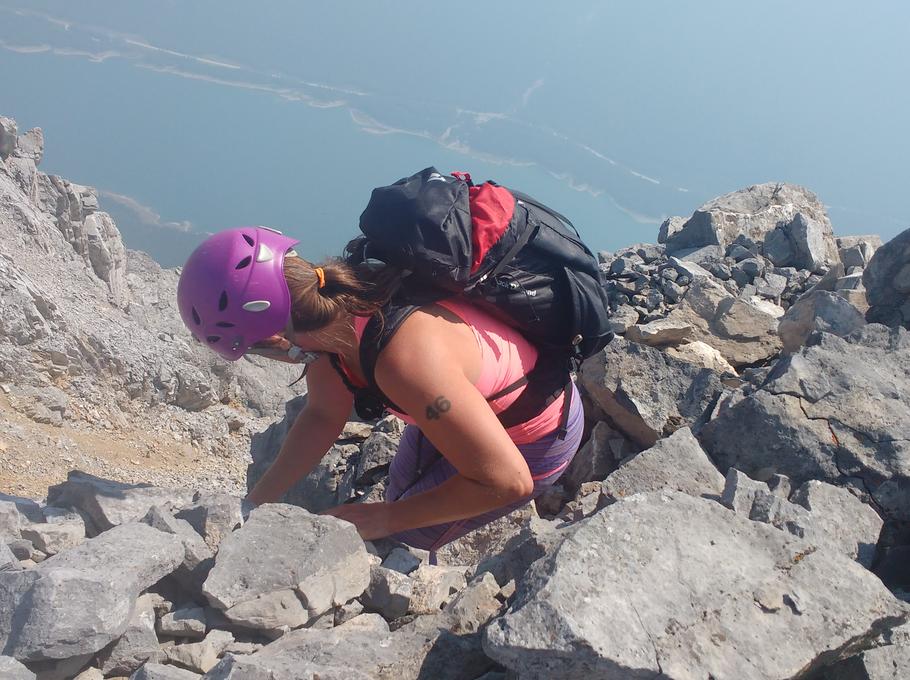 "The hike/slog up was mostly uneventful, except for an ornery bighorn ram. We gave it a very wide berth, walking well around the three rams hanging out, but it kept approaching us. Mike and I took out our bear spray (safety too!) and we all stood together behind a tree clacking our poles together and against the wood. We yelled. Nothing!" — Mount Nestor, Alberta by leigh-annewebster
Bad ideas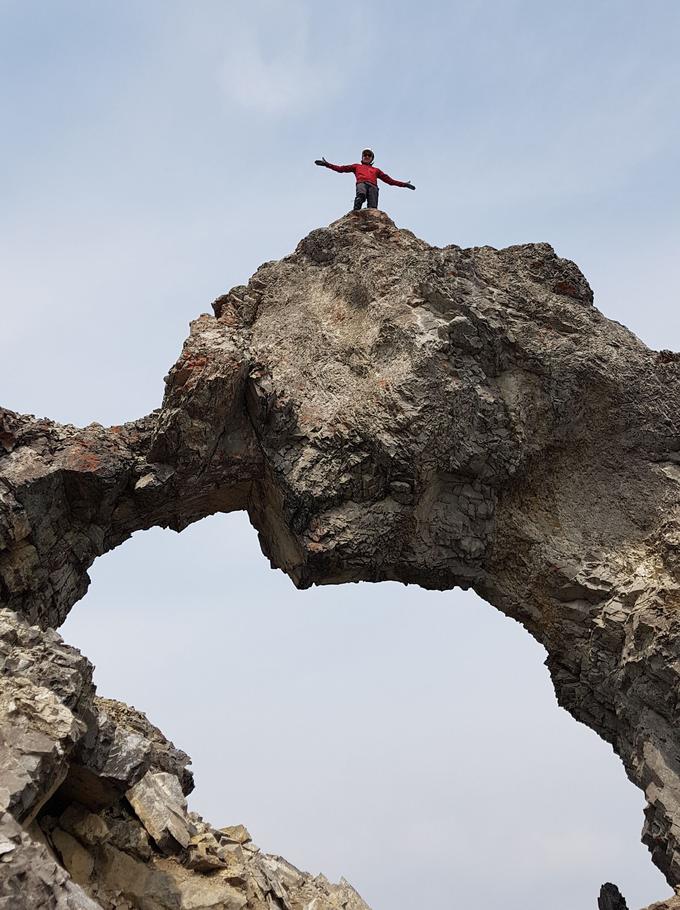 "After stopping at the archway for a photo, the hiker we picked up was climbing down from the arch and decided to toss his bag for extra mobility. The bag ended up rolling through the archway and all of the way down the sheer north face of Tyrwhitt never to be seen again[…] had to give the guy a lift back to calgary as he had no keys or wallet in order to get home." — Mount Tyrwhitt, Alberta by MarkJPerkins
Chupracabra & agro running dudes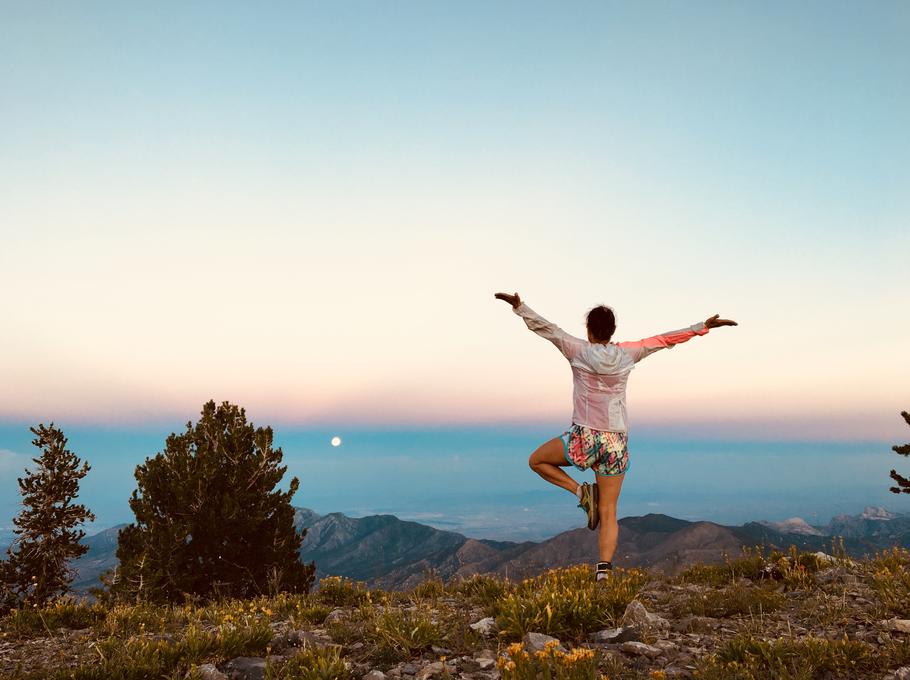 "…darkness fell and I had to descend the rough Harris ridge in the dark from memory as my beam of light barely helped me. I was followed by a group of glowing eyes to add to the drama. Probably squirrels but my imagination thinks chupracabra. Very special day owning the mountain. I have very strange experiences when I pass some men on the trail. 2 times today guys tried to chase me down (with no success) and left their group to do it! Crazy!" — Harris Mountain, Nevada by paula.raimondi
Flimsy footwear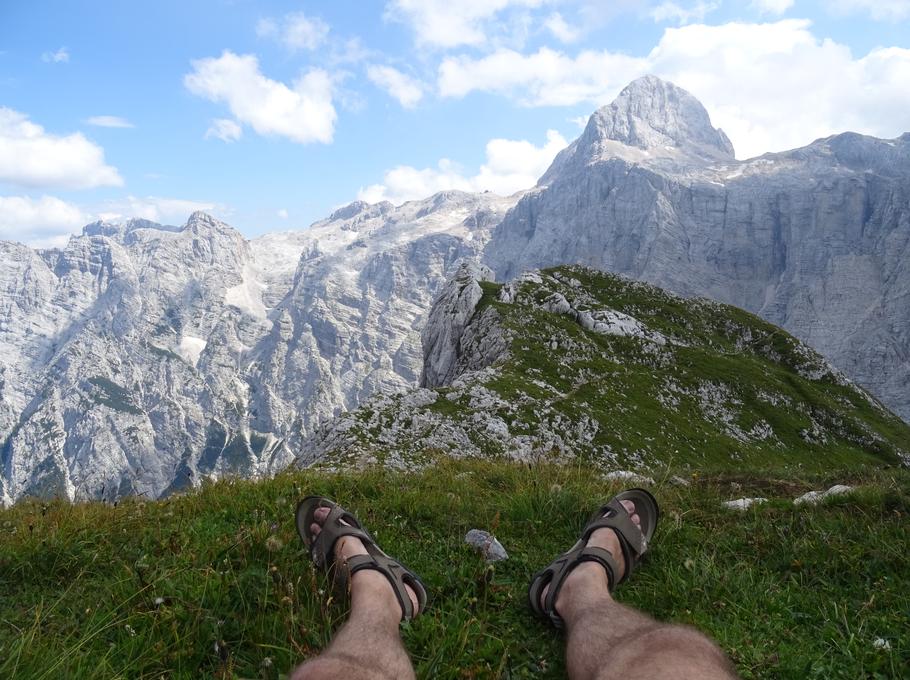 "Started walking with boots I found in the garage and tested while cutting the lawn. After half an hour the rubber sole of the left boot came loose… on the way back the right sole fell off. Not possible to rent boots at hut. We're here now, put on sandals, more grip than other shoes." — Bovški Gamsovec, Slovenia by Pieter
Exhaustion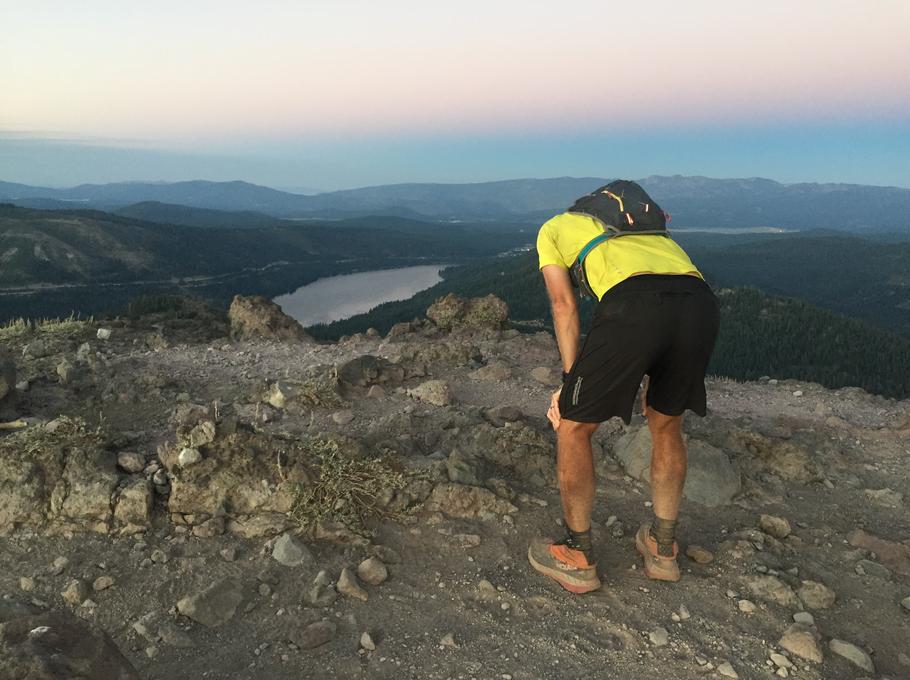 "Third peak of the Castle Peak 100K. After summiting Crow's Nest, we navigated the craziest, most insane part of any race I've ever done[…] a series of fixed ropes would aid our ascent to the summit. The 1.5 mile section would take nearly 45 minutes, and by the time we reached the summit I was spent. I had to sit for a few minutes sipping ginger ale and energy gels before I could continue." — Lincoln Mountain, California by rsnipes
Tedious footing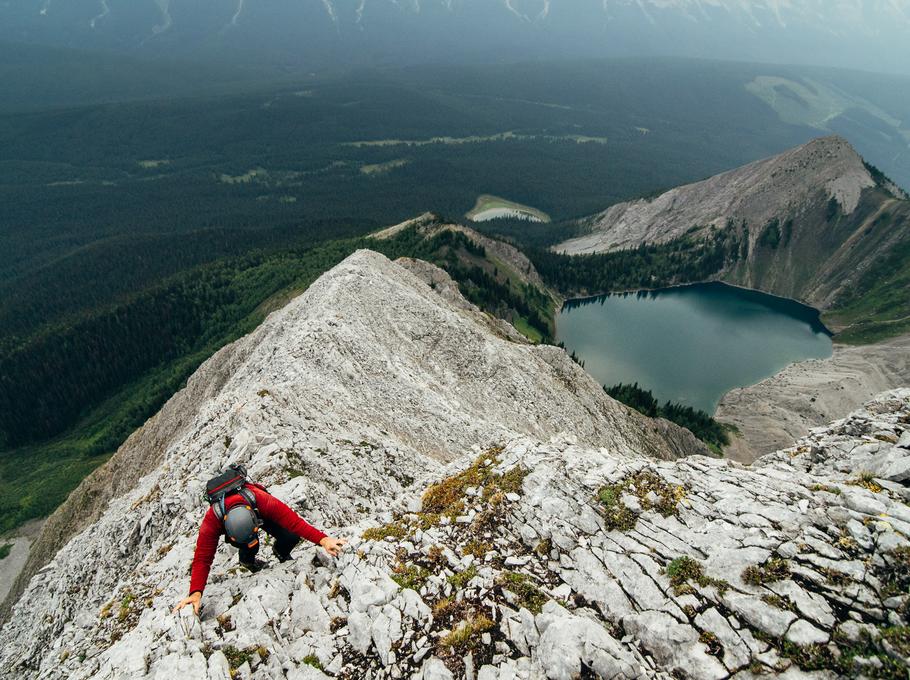 "Loose rock galore, but firm enough to give you hope. I didn't really enjoy this one, neither did my cousin, more of a chore than a fun day on a mountain. Alas, the views were good despite the smoke. Frozen lake is absolutely beautiful…. I won't be back!" — Mount Fox, Alberta by jakefinnan
Bees, snakes, & sharp plants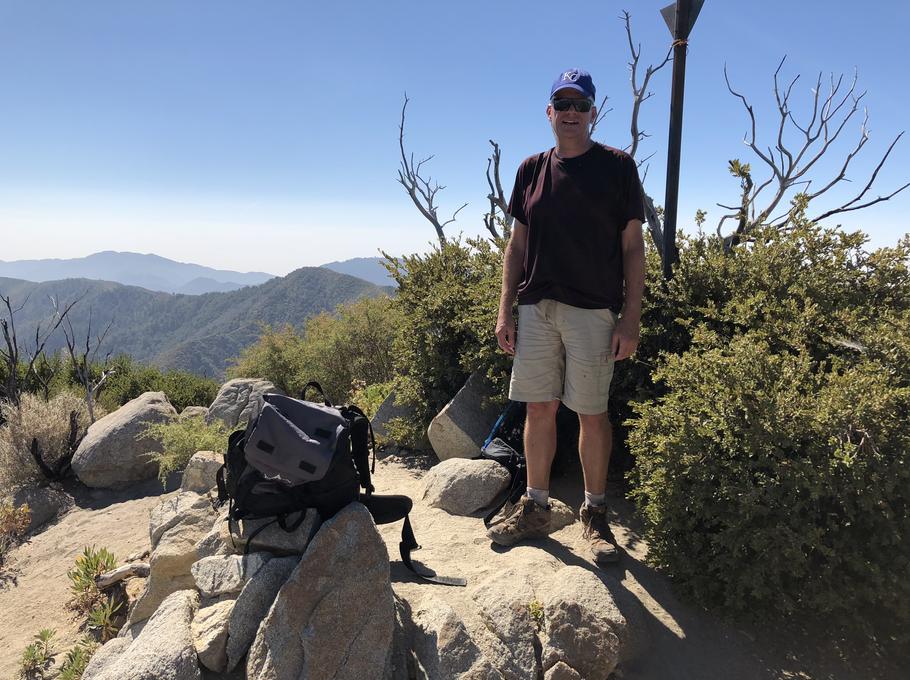 "Several people were getting stung (I got it twice) at around the 3.0 mile mark. Then on the way back down, yep, got stung twice more. Also had a rattlesnake kindly "warn" me of his presence! The sharp yucca plants and sharp thorny-plants also can be a pain (literally!) so long pants wouldn't be a terrible idea. But then with the bees and snakes, stormtrooper armor might be better…" — Strawberry Peak, California by Marc
Type 2 Fun
Those are just a few of the many tribulations experienced by peakery members during PEAK MONTH. Some people (most?) may read these stories and think "no way, that's not fun." It seems like a natural response.
But there are those of us who not only endure these challenges but keep coming back for more. Call it Type 2 fun. A desire to embrace gentle sufferings and in spite of it all stand on a high spot and see the world from a different perspective.
Next time you look at any of the thousands of summit photos on peakery be sure to notice a certain gleam in the eyes, a sense of elation beaming through. "I made it!" those faces joyfully proclaim. But then take a closer look and you'll also find things a little rough around the edges — the sunblock not totally rubbed in, the sweaty hair, the deep fatigue set around the eyes. It takes a lot to make it to a summit, both physically and mentally. And to many, even the rewards of views, adventure, challenge, and natural beauty aren't worth it. But to those that feel the pull of the mountains, successfully journeying to a mountain summit and back is one of the best feelings in the world.
Have fun, and be safe, in the mountains,
– the peakery team